TwinSpires overview
The website offers legal betting for residents and citizens of USA. It has powerful platform for online, mobile, telephone betting and off track system. Everything you need to bet wherever you are.
Fair welcome bonus for all new customers and powerful VIP program.
Reliable customers support for all players (not only the VIP members).
Live racing, free streaming, free handicapping, a lot of rewards.
To be a player at TwinSpires is great choice because you can use all popular types of fast wagering, mobile access to your account, powerful platform for online betting and many weekly deals.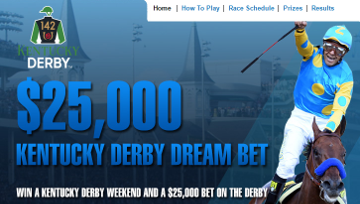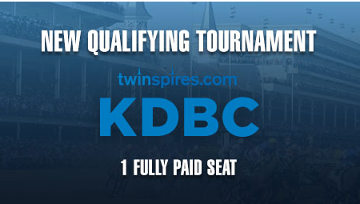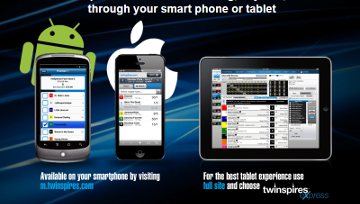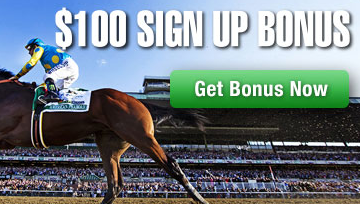 It's always the first question when we talk about legal wagering on horse races. Yes, it is. The company is licensed in Oregon and it has a long history of good reputation and excellent service. It's one of the most recognized brands on the market and right now you can benefit of all its features.
All players from states where it's legal to bet on horse racing, are very welcome without any exception. You can check the registration form and see if you choose a prohibited state that the system doesn't allow to proceed to the next step! Fair enough.
If you have any questions about your accounts, how to wager or something else, you can use the contact details:
For Mail:
TwinSpires
PO Box 8510
Lexington, KY 40533
For OVERNIGHT MAIL Only:
TwinSpires
801 Corporate Dr.
2nd Floor
Lexington, KY 40503
Direct contact:
Fax: 859-223-9141
Telephone: 1-877-SPIRES-1(1-877-774-7371)
E-mail: [email protected]

Horse betting at TwinSpires
The official website of this company is the only place to use all possible features. To get full access you will need to register an account if you don't have one yet. After that everything is much easier. The wagering is simplified as much as possible and you can get many valuable information before the track.
The platform is organized in few different sections:
If you don't have an account there is video tutorial how to do that step by step. It's really simple and when you have a well explained example everything becomes much easier. The company wants to deliver 100% satisfaction to all its customers.
The video clips is about 2 minutes so you don't need to get popcorn to watch a big movie. Just take a look on all details and continue with your registration. One step process and you are in.
All of the most popular upcoming events come with additional bonus, extra offer or special promotions. Especially for top races like Kentucky Derby and many local events in USA. You can see all offers on the homepage because the website is organized very well.
It keeps the classic interface without many special effects no additional lights.
Since it's a real leader on the market, you will be able to use all traditional and modern betting types. If you prefer to use a computer, laptop, tablet, smartphone (iPhone, Android, Blackberry, Windows) or other device – just use the website.
If you prefer the classic telephone betting, just register an account and use the wagering number to start. They are only pros so everything is really fast. For any need of further information, the support team will help you out.
Other excellent options in the platform are:
Free live streaming on almost all tracks from US and some International
Free handicaps in favor of all players (yes, it's really free)
Totally free TV and Radio streaming online
Hundreds of tracks listed by name and more information
Wager Cancellation if you change your decision!
Bet at a glance with TwinSpires Pro Pad advanced tool
A lot of handy tools to bet easy and secure
Improved platform to accept your wagers quickly and efficiently
You can watch up to five different tracks at the same time and it's totally free
You feel like you have your own OTB
Fast updates about Scratches, weather, second calls, carry weights, odds, and penalties

It's a first class destination in USA. The company offers to all its members wagering at 300+ thoroughbred, harness and quarter horse tracks worldwide, with exclusive access to major horse racing events.
The combination of betting options, advanced tools, high performance, free news, updates, video, TV, news, stats, monthly promotions and super support, is really good and there is no doubt it's a hard mission to find a disadvantage.
To register a new account requires about a minute and will have access to:
Deposit match on first deposits and wagering up to $100
VIP Elite club with more generous rewards system and free bets
Totally free mobile apps available on iTunes for iPhone, iPad, iPod touch
Mobile-friendly website for all smartphones and tablets
Very fast betting platform with option to cancel bet
Refer a friend promotion with $50 bonus for every invited player by you
Top US tracks, free news and a lot of useful tips to be more successful
Payments with EZmoney, Paypal, Moneygram, Debit & ATM card, VISA, MasterCard, E-banking
Official wagering site for Churchill Downs and the Kentucky Derby
Do you want to be part of top site?
TwinSpires will reward your play with free extra money.
Grab $100 and extra rewards